Our store can be difficult to capture on a website. Our product offering is continually changing and occasionally items will appear on our shelves for a short period of time but once they sell out they are never to be seen again. We do however have a few "constants" that we can share.

Georgian Bay Boards
Handcrafted from salvaged wood collected on the shores of Georgian Bay, each piece tells a story of the tree and the community that shaped and inspired it's creation. The Artisan believes it is critical to replace the natural resources we take from our beautiful earth. All of the lumber used to create this product is 100% salvaged. No rare, exotic or healthy living trees are used to create this product. A tree is planted in Ontario with the purchase of every board.
Perfect for serving each piece is suitable for direct contact with food and is coated using food safe, sustainable & eco-friendly finishes and epoxy products. After being sanded to an ultra smooth finish, the boards are sealed using two coats of a durable, high-solid oil finish. The finish will not roughen, dry out, peel, crack or flake and is water and stain resistant.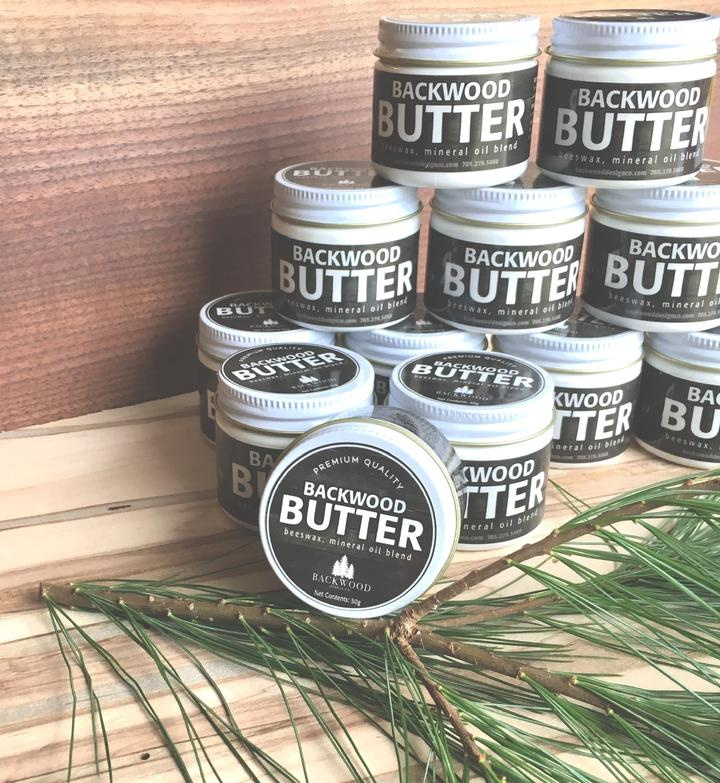 For best results, the Artisan recommends using BACKWOOD BUTTER to care for your new functional art piece.
BACKWOOD BUTTER is an edible, food-safe maintenance finish. 50g jars are available for purchase for $19.99 each.

Directions for use: Apply a thin finish on the board with your hand or paper towel. Once the finish dries, you can buff to a shine with a paper towel. Reapply whenever your wood piece begins to lose its lustre or water resistance.
Local Pottery
These stunning pieces are the work of local artist Jodie Hames, based out of Bethany, Ontario. Functional items take on special qualities that are achieved through different techniques such as carving, stamping, drawing and glazing. Due to the handmade nature of these items all listed dimensions are approximate.
Hand-poured Soy Candles
Made in Alberta, Canada, these soy candles are made using all North American sourced materials free of pesticides and herbicides. Using 100% pure soy wax, a natural vegetable oil derived from soybeans, the Artisans pride themselves on candles crafted without the use of paraffin, petroleum, palm or other harmful additives. Each candle is fragranced using only premium essential oils and has a lead-free wick made from paper or cotton.
Environment in Mind!
The core values of this candle company are finding ways to reduce our impact on the earth.
* Candles do not come in fancy boxes or unnecessary packaging, because they believe its what's on the inside that counts!
* Reusing is a big thing to our supplier, they suggest the glass candle jars could be reused as drinking glasses or storage jars.

* They do not use plastic packaging with the exception of tealight cups, however these cups can be recycled.

* Everything they use in their production and everyday use is recycled.

Available in jar, votive and t-lights this collection offers a long lasting and clean burn. Not only are these candles biodegradable but any spilled wax is easy to clean up with soap and water. Free from animal testing we are certain you will be coming back each season for the latest selection of fragrances.
Door Stoppers
Whimsical and soft, they won't hurt your baby toe should you accidentally kick it. Prices starting at $14.99.
Decorative Cushions
Why yes, you could say that we offer a few. Our polyester-filled collection is mostly available in 17"x17" but we do offer a few 12"x18" and 20"x20" options. Prices start at $19.99.
Luxurious Decorative Cushions - Made in Canada
This collection of Canadian made cushions is available in a variety of sizes and fabrics. Each Canadian made cover is filled with a feather insert made in Ontario, Canada. Prices starting at $39.99 each.